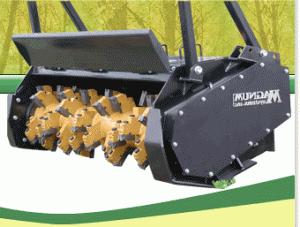 Why Shredding Quality in Seppi Mulcher Matters
When it comes to Seppi mulcher or any other model of mulching machine, there are a number of factors that should be taken into consideration while buying. For most buyers, they look for the quality of the cutter tools and the machine power to make a decision. However, there are other features that are equally important when it comes to buying the right mulching machines. One of these mulching factors is the shredding quality. This is about the quality of the size of the wood particles that the machine can produce.
There are many reasons why the quality of the shredding matters while buying a Seppi mulcher. That's what we are going to highlight and discuss in this post. Here are the reasons why:
Effectiveness of the Machine
The quality of shredding determines the effectiveness of the machine. In most cases, mulching is done to help clear vegetation and also enhance the process of decomposing the same. So the smaller the shred of the wood, the high the rate of decomposition. Therefore, if you are mulching for commercial purposes, then you need to consider this as one of the key features. The quality of the mulch that you produce will affect your business in a great way. For that, you need to invest in a machine that offers incredibly high shredding quality.
Quality of Service
If you are the business, then you definitely know what quality of service means in the business. To survive in the business, you must ensure that customers are getting the best service. With a machine designed with the high shredding quality features, then you can expect it to provide a higher quality service. That includes finer wood shred that decomposes factor. The quality of the Seppi mulcher teeth that is installed in these machines is also very high. All these factors will at the end show in the quality of service in these machines.
Speed of Operation
Another reason why you need to consider the shredding quality is the speed of the operation. For the machine to offer you the best quality shredding, then it must be designed to offer high-speed operation. That is to ensure quality of the wood shreds is accompanied with a good volume of the same. Therefore, investing in a Seppi mulcher that offers high shredding quality, you will also enjoy a high speed of operation. That will also increase the level of productivity of the machine.